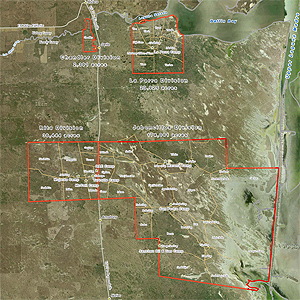 Massive even by Texas standards, the quietly magnificent Kenedy Foundation Ranch is but a one-hour drive from Corpus Christi, lying some sixty miles south along Highway 77. Approximately 235,000 acres of the Kenedy Ranch is owned by The John G. and Marie Stella Kenedy Memorial Foundation, created by Sarita Kenedy East in memory of her father, John Gregory Kenedy, Sr., son of Mifflin and Petra Vela Kenedy, and her mother Marie Stella Turcotte Kenedy.
The mission of the Kenedy Memorial Foundation, a 501 (c) (3) non-profit corporation, is to maintain its portion of the Kenedy Ranch as a natural asset that honors the role of the Kenedy family in both the development and preservation of South Texas. In 1997-98 the Kenedy Memorial Foundation received the prestigious Texas Parks and Wildlife Department's Outstanding Lone Star Land Steward Award in recognition of outstanding efforts in the conservation and enhancement of wildlife habitat in Texas.
The Kenedy Memorial Foundation Ranch is situated in the coastal bend of South Texas Rio Grande Plains; the climate is humid subtropical, with cool winters and very hot summers and a prevailing southeast wind. There is an average of 320 frost free days a year, with vegetation growth peaking in spring and fall. Annual rainfall averages 26.47 inches, the greatest amount falling in May and June and again in September and October.
The Kenedy Foundation Ranch is comprised of four sections. Across these Divisions, landscapes rich in natural diversity kaleidoscope through native prairie, brush country, coastal marshes, woodlands with shaded ponds, and a serene beach stretching along Baffin Bay's coastline.
A fascinating aspect of the ranch is its numerous expanses of migrating sand dunes, dramatically rising out of the flatness of the land around them. With a calm dignity, these gentle giants continually shift and drift across the prairie. On a windy day, the slow but inexorable process is easily visible to the naked eye. They are a distinctive ecosystem and provide habitat for birds, small mammals, and large game animals.
Lying in the southeast boundary area, a colossal spread of uninterrupted mud flats makes another indelible impression. An unforgettable visual experience, this spectacle rivets the eye, suggesting some strange uncharted world, yet inhabited or visited by a variety of wildlife.
The sweeping array of topography and habitat offered by the Kenedy Foundation Ranch is rooted in the sheer magnitude of the property and has the fortunate result for sportsmen of attracting an abundant variety of small and large game that may be hunted, including but not limited to:
White-tailed deer
Nilgai
Javelina
Wild turkeys
Feral hogs
Bobwhite quail
Ducks
Morning doves
Geese
Coyotes
The nilgai, an exotic antelope imported from India to add to the variety of game available, is extremely popular with hunters in large part because it presents such a challenge. A very fast animal, the nilgai is hard to hit, and with its extraordinarily thick hide frequently is not taken down even when hit. Bagging a nilgai is quite an accomplishment, one that is exceptionally exciting for the successful hunter.
In addition to some of the most sought after hunting in South Texas, the Kenedy Foundation Ranch's considerable coastline along Baffin Bay provides visitors the opportunity to enjoy another local tradition as well. Baffin Bay boasts some of the best redfish, speckled trout, and black drum fishing on the entire Laguna Madre, and those who enjoy this sport can be rewarded handsomely for their patience and skill.
In keeping with Texas history and culture, cowboys still ride the range and cattle still graze throughout the vast Kenedy acres, where Indian grass, switchgrass, sea coast bluestem, and various forbs cover the coastal prairie, and a number of free flowing artesian wells have created lush ponds surrounded by thick grasses. Thanks to good range management practices, such as brush control, prescribed burning, and grazing deferment, the range condition of the property has been a positive influence to provide adequate grazing for livestock.
A recent majestic addition to the ranch in the Jaboncillos Division is a windfarm of 118 wind turbines that each generate 2.4 megawatts of electricity. The turbines are inland over 8 miles from the Gulf of Mexico and 5 miles west of the Laguna Madre waters. See the attached file for more information about the KMF Windfarm.
Separate sections on the La Parra, Rita, and Jaboncillos Divisions of the ranch provide more detailed information on the habitat, wildlife, average annual harvest quotas, camp facilities, and acreage.
La Parra

Once a vaquero settlement and headquarters of the Kenedy Ranch, the La Parra Division consists of approximately 23,129 acres featuring a variety of vegetation from dense oak mottes in the southern pastures to open prairie and mesquite woodlands in the northern pastures. There are ten pastures in all: Caballo, Erebia, Miralejos, Muelle, Pajaro, Secate (HF), Tomas (HF), Tecolote, Toro, and Tunas. The Tunas pasture includes approximately 1,000 acres that is owned by the Missionary Society of the Oblate Fathers of Texas. The Oblates own and operate Lebh Shomea House of Prayer which includes the Big House (former Kenedy home) and other facilities located within the La Parra which are not available under the terms of the lease.
La Parra's diverse habitat provides excellent hunting opportunities on approximately 21,386 acres. Approximately 1,400 acres is high fenced (HF), which affords an opportunity to stock exotic game animals and intensely manage deer populations. Large numbers of waterfowl winter at La Parra, when fresh water ponds are readily available. Wildlife harvested from La Parra include: white-tail deer, nilgai, feral hogs, turkey, javelina, bobwhite quail, morning dove, ducks, geese, and coyotes.
As a change of pace, La Parra's access to the superb fishing of Baffin Bay offers enthusiasts a chance to test their skills against some of the largest speckled trout, redfish, and black drum caught in south Texas. The beach provides dramatic sunrises and plenty of other outdoor activities for the entire family. Nature lovers can also view a variety of shore birds and waterfowl from the beautiful waterfront property.
Range condition varies throughout, depending on soil condition, amounts of rainfall, and types of vegetation. The soil is sandy with some low lying clay areas. Vegetation consists of seacoast bluestem, Bermuda grass, brownseed paspalum, gulf cord grass, mesquite, huisache, and live oak. A suggested cattle stocking rate of 1 animal unit to 46 acres will allow for enhancement of wildlife populations while improving the range condition on approximately 23,129 acres.
Rita

The Rita Division covers approximately 36,227 acres of dense oak mottes, coastal prairie, and mesquite woodlands. It is comprised of nine pastures: Atravesada, North Rita, South Rita, Maleta, Mustania, Embarque Trap, Guajolote, Horse Trap, and Yescosas. The Rita pastures border the Encino Division of the King Ranch. Access to the Rita is located on the west side of Highway 77, although all persons must check in with the East Turcotte gate guard located on the east side of Highway 77 (Jaboncillos entrance) before entering through the West Turcotte electronic gate of the Rita Division.
Hunting is available throughout the entire Rita Division and is very good for both quail and white-tailed deer. Additional game animals include wild turkey, morning dove, feral hogs, javelina, ducks, geese, and coyotes. The nilgai population is smaller on the west side of Highway 77, but occasionally they are harvested.
Soils of the Rita Division are classified as sandy throughout most of the division. Range condition varies with different habitat types and precipitation. Vegetation consists of seacoast bluestem, brown seed paspalum, gulf cord grass, thin paspalum, mesquite, huisache, and live oak. A suggested cattle stocking rate of 1 animal unit to 46 acres will provide an excellent opportunity to enhance the wildlife habitat and the overall quality and quantity of animals within the division.
Jaboncillos

At approximately 172,906 acres, the Jaboncillos is by far the largest of the Kenedy Ranch's division. The pastures of this division are home to vegetation that includes dense oak mottes, coastal prairies, mesquite woodlands, mud flats, and sand dunes. These fourteen pastures are: Jaboncillos, Sorillo, Mirienda, Gueras Trap, Cipriano Trap, Mogote, Ramirez, Maria Estella, South Tajos, Barreta, East, Telefon, San Jose, and Rodeo. The mud flats comprise approximately 35,047. The San Jose pasture provides outstanding fishing opportunities at the Land Cut.
Hunting is very good on the entire Jaboncillos Division for both quail and white-tailed deer. Deer hunting is better within the oak mottes, while quail hunting is better in the open prairie / mesquite woodlands. The Jaboncillos holds the largest number of nilgai, of the three divisions even throughout the mud flat areas. Other wildlife consists of wild turkey, morning dove, feral hogs, javelina, ducks, geese, and coyotes.
Soil classification throughout most of this division is sandy, especially on the sand dunes. Range condition varies with the different habitat types and rainfall. Vegetation is diverse throughout the division, with fields of seacoast and big bluestem, paspalums, Indian grass, cord grasses, salt grass, sacaton, yucca, mesquite, huisache, running live oak (scrub oak) and live oak trees. A suggested cattle stocking rate of 1 animal unit to 42 acres creates an opportunity to increase the wildlife potential and improve range conditions on approximately 165,721 of grazing acreage. Of those 165,721 acres, approximately 35,047 acres are mud flats.